Programs
East Sac YMCA
Before & After School at East Sac YMCA provides a safe, structured, and fun environment for children K – 6th grades. With affordable care options, including financial assistance for qualifying families, YMCA Before & After School meets all of your need by providing safety, homework support, recreation, and enrichment for your child. Our caring staff and well-rounded curriculum provide opportunities for your child to learn, grow, and thrive through participation in the arts, sports, and character development.
Language Arts Exchange (LAX)
Your child will participate in the Language Arts Exchange Program (LAX) which provides teacher aides to work in every grade level (K-6). The smaller group size and direct instruction of this program lets your child soar, with targeted grade-level work on language-arts skills, ranging from reading development in kindergarten to sophisticated textual analysis and writing construction in sixth grade. LAX is funded through the Parent Teacher Group (PTG) and supported by the principal, staff and teachers.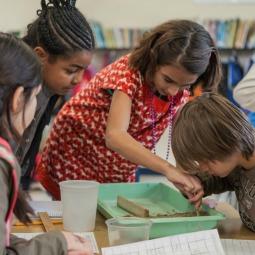 All around us, each day everything is rapidly changing. Preparing your child to meet those changes means teaching those standards we all need to succeed, but also familiarizing them with today's technology so they can more easily become fluent in tomorrow's. It means helping them understand that almost anything can be done if you try and work hard. It means letting them know it is OK to ask for and receive assistance. It means instilling in students a love of inquiry and the tools to apply what they know.